AXLR8 Election Staff Management systems are purpose built to help you recruit and vet staff for all locations and manage their induction, training and tasks on the day.
Recruitment
The AXLR8 application form builder (AFB) and complete ATS (applicant tracking system) automates all your recuitment admin.
Vetting
A full vetting module is available supporting BS7858 for PoID, PoA, references, qualification testing, employment and residential history and other areas you can customise for your authority around the core functionality
Training
Book staff on training events and also use AXLR8 e-Learning to teach staff and test their knowledge with quizzes. Maintain the highest standards through well trained and tested staff.
Work allocation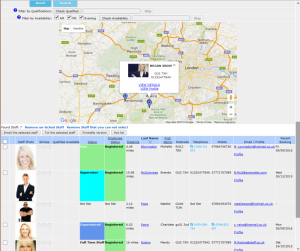 Work roles can be allocated to staff according to geography (see maps view above) and qualifications, experience, etc.
Communications
All communications are supported with news notifiations and a secure chat mechanism allowing you to talk quickly to groups and individuals to deal effectively with tactical issues on the day.
Timesheets and attendance
Staff can record position, attendance and other information including photographic feedback about situations and events that have arisen.
Staffing App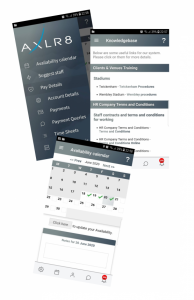 Expenses
Expenses may be recorded through the app with images of receipts and approved by a manager and countersigned by finance. There is a papertrai for tehhardcopy expense submssions and approvals if you wish and there is also an audit trail.
Accounting for payments and costs
The system completely records time and expenses and there is an audit trail.
Reporting and Audit
There is a full reporting suite using AXLR8 Report Builder.
Actions are audited and time stamped for audit, improvement plans and training purposes
Call us on 01344 776500 to discuss your requirements and see a customised demonstration for your authority